Do I have sufficient antibodies after vaccination Covid-19?
In 5% of people, not enough antibodies are produced to be protected against COVID-19.
Check your titer regularly to see if you still have enough antibodies.Read more
€ 49,-

Serological antibody test against Corona. IgG Blood test by Laboratory. Abbott a..

€ 159,-

Corona T-cells memory cells Blood test by Laboratory. EUROIMMUN

€ 69,-

Corona antibodies IgG Blood test by Laboratory. EUROIMMUN antibodies to SARS-.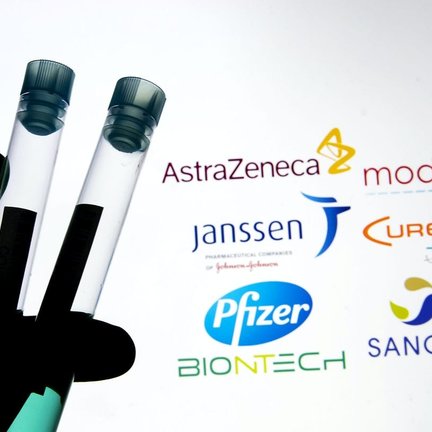 Two tests are suitable for measuring antibodies after vaccination.
Why some people contract the coronavirus after a vaccination is still not clear. Still, there is a way to find out if the vaccine had an effect on your immune system. Some antibody tests designed to detect natural corona infections can also measure antibodies made in response to the vaccination three weeks after a shot.
For some vaccines like Astra Zenica and Janssen, it is better to wait a month to measure your antibodies after vaccination.
The Abbott test and the Euroimmun test measure the spike antibodies Sars-Cov-2 that are also produced after vaccination.
The Euroimmun test is also available as a finger-prick test. You can drip the blood yourself on a special card that you send to the lab.
In order to know whether you are sufficiently protected, it is important to see whether your results are above the reference values for the test in question that you have taken.

Herewith sample results:
example result Abbott IgG

sample result Euroimmun serum: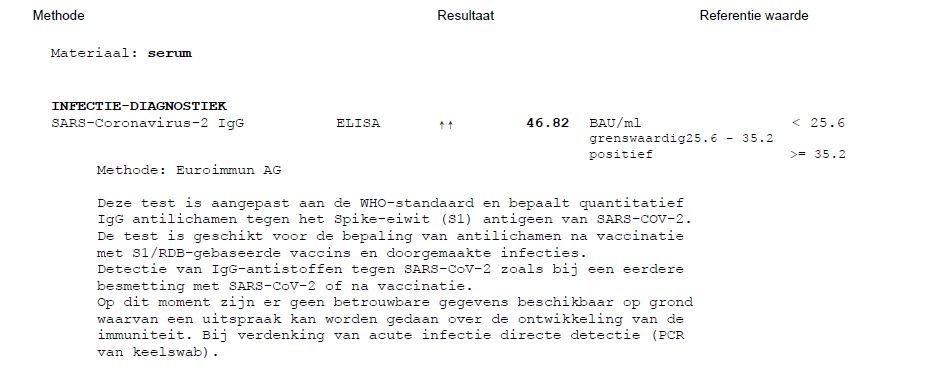 Sample results Euroimmun dry blood spot finger prick:

All tests are equally reliable. For more information see this scientific publication
Assay sensitivity
Abbott (CMIA) IgG
EI (ELISA) IgG
days after the first symptoms:
14–21
(100%)
(100%)
after 21 days
(96.0%)
(100%)
unknown
(98.5%)
(100%)
total
(97.9%)
(100%)



Assay sensitivity
days after a positive PCR test:
≤10
(87.5%)
(100%)
>10
(100%)
(100%)
source picture: ANP Coen van wel
Read more
Close